Manufacturers
At Hi-Fi Foundations, we are committed to shoring up the foundations of your audio system. In support of this philosophy, we only sell products from manufacturers who share a consistent design ideology. These manufacturers provide products that are designed from the ground up to work as an integrated whole, with each link in the chain faithfully conducting the electrons that provide sound for your life and life for your sound.
We currently represent the following manufacturers. Clicking the images and links below will open their respective websites in a new window.
Product Highlights
From time to time, certain products really make an impact on us and on our customers. What follows is a mash-up of our own impressions, industry reviews, and genuine customer feedback.
It's All About Optics
I can't stop listening. And when I tried to compare side by side, it was hard. But it was the longer term experience of listening where the emotional reaction was better. We actually don't often and don't usefully listen to music. It's when it gets into us that we know. -Roger in Seattle
Wireworld's Supernova 7 Toslink Optical cable isn't your run-of-the-mill plastic fiber optic cable. It's isn't even run-of-the-mill glass! It's got 388 borosilicate glass fibers with micro-polished ends which provide improved clarity and dynamics to thrill the most sophisticated listeners.

Once you've tried glass, you won't want to use a plastic fiber-optic cable ever again. Once you've heard your music through Supernova 7's borosilicate glass, you'll never look at regular glass fiber the same way!
Doing the JitterBug
49 bucks buys you some of the soundest improvements I've heard for anywhere near the price. – Mike Lavorgna, Audiostream.com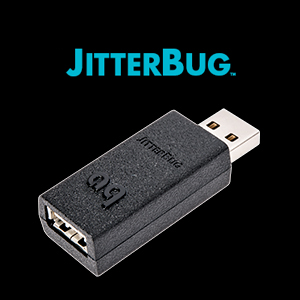 AudioQuest's latest foray is making all kinds of noise… go away! You can read more about this little marvel in our blog.
A Portable Powerhouse
The latest Dragonflies (Dragonfly Red and Dragonfly Black) have landed and they are phenomenally good! Crazy power efficiency and insane sound quality in the palm of your hand for a steal of a price… Your phone never sounded so good!
It's like I was deaf and can now hear. I love this DragonFly and will make professionals I know listen to it! – Maurice B., Issaquah, WA.
AudioQuest's DragonFly 1.2 promises "Beautiful Sound From Any Computer, Anywhere" and they aren't messing around. This tiny wonder device is the size and shape of a USB thumb drive and instantly improves the quality of any computer you plug it into. It has a built-in 24-bit ESS Sabre Digital to Analog Converter (DAC; the thing we PC people used to call a "sound card") for PCM audio up to 24bit/96kHz and a variable output amplifier for driving headphones, powered speakers, a power amplifier, and a fixed output (max volume) for feeding your preamplifier or receiver. For the geeks in the crowd, it uses an asynchronous data transfer mode to improve digital timing integrity and dual fixed-frequency master clocks to minimize jitter for all sample rates… add all that up and it means great for any computer in your pocket, all without installing any drivers!
So what's new with version 1.2? The latest DragonFly has a stronger power supply for a more dynamic and powerful presentation and a more direct signal path between the DAC and the analog output stage for enhanced transparency and immediacy.
DragonFly Specifications
24-bit/96kHz ESS Sabre DAC
Plugs directly into your computer's USB port
USB-powered – no need for batteries or a separate power supply
Streamlength™ Asynchronous USB Class 1 data transfer for reduced jitter
Dual master clocks for even more jitter reduction
Analog volume control (60 levels, controlled by your computer)
3.5mm stereo minijack serves as headphone output (12 ohm minimum recommended) and line-level output
Backlit Dragonfly logo changes color to indicate the sample rate (44.1kHz, 48kHz, 88.2kHz, and 96kHz)
Durable metal chassis, svelte rubberized coating
2Vrms output voltage
Soft storage pouch included
Compatible with Mac and Windows PCs, along with many Linux systems
3/4″W x 1/2″H x 2-1/2″D
1 year warrantee
The Over-Achiever
Thanks for giving me the opportunity to try this cable before buying. I've been blown away by the level of improvement from the LightSpeed. I was hearing things last night from digital that I don't even hear from analog. -Ken B., Kirkland, WA
While every customer's needs are unique, sometimes a certain product strikes a chord in the hearts and minds of many. One of our most popular upgrades is the LightSpeed USB cable from Light Harmonic.
It turned out to be a late night of listening to music, which is an indicator how well it went. Right out of the box I'm enjoying the LightSpeed more than [another top-tier USB cable] I've been using for somewhat over a year. Absolutely no trace however slight of edginess. Some initial impressions of the LightSpeed — transparency; clarity; impressively low noise-floor; amazing amount of low-level detail and nuance; impressive micro- and macro-dynamic jump; clear, strong and articulate bass… a sense of nothing interposed between the listener and what a particular recording has to offer. The window on the recording flung wide analogy in spades. Maybe the whole wall taken out, too. – Steve Z., Libby, MT
It comes in two configurations, the first has the "standard" USB A and USB B connectors. The second has a USB B connector on one end and a pair of USB A connectors on the other.
A quick glance at either cable will tell you there is nothing standard about them! The separate, individually shielded legs of the cable carry power and data lines apart from one another, virtually eliminating the damaging interference inherent to standard USB cable design. These cables have been bench tested to accurately signal at a rate of over 10 gigabits per second (that's 20 times more than USB 2.0 requires!), which means the music arrives effortlessly and with fewer clocking errors than ever before. In short, it is the closest thing to a bit-perfect USB cable we have to offer!
"LightSpeed is an open-wheel racer, those other USB cables are freight-trains. LightSpeed USB is light, flexible, and a serious over-achiever, outperforming the competition, and exceeding all future standards. In real-world listening rooms, it's easy to install and performs beautifully. You WILL hear the difference— even if you think all USB cables are the same." – Light Harmonic
Are two legs are better than one?
While both the red and white LightSpeed cables sound amazing, the white ("split") cable enables some additional power delivery configurations*. One USB A connector of the white LightSpeed cable is trimmed with a black band at its foot. This is the power "leg." The virtue of a separate power leg is twofold:
If your DAC is self-powered (in that it plugs into the wall or runs off a battery or other dedicated power supply), chances are the +5V power from the USB cable is not needed to keep the music flowing. In this case, you may (once your computer has recognized the DAC) disconnect the power leg of the LightSpeed cable entirely, minimizing the electrical noise seepage from your source component. This can have improvements anywhere from subtle to profound in the resulting analog signal.
If your DAC requires power from the USB to function, but you happen to have a linear power supply or other high-purity +5V power source, you can plug the black banded USB A connector into your dedicated power supply and negate the noise that otherwise would enter into the DAC from your music server.
In both cases, the end result is more faithful reproduction of the music that you love.
* There is one small downside to the split leg cable – if you intend to use the LightSpeed on the go, be aware that some portable tablets and laptops may only have a single USB port available. As the use of a USB hub is not recommended for achieving the best sound quality, you would be well advised to consider the red LightSpeed cable over the white if you anticipate having only one USB port for some or all of your music listening. The red cable is the most compatible, the white cable is the most versatile. We are here to help you make the right choice for your individual needs.