Category Archives:
New Products
Time and technology keep marching forward. Since the last time I wrote about Ethernet, we've seen strong offerings from a number of manufacturers, but the one that stands out the most to me is Wireworld. Most of the hifi vendors are focused on making Cat-6 sound better. David Salz set his sights on an entirely different target: Category 8. Now, if you're like me, you probably weren't even aware Category 8 Ethernet cabling had been defined, let alone spec'd out. You also might be wondering what happened to Category 7.
According to Wireworld, every one of their Cat8 cable employs the same "Patent-pending Tite-Shield design technology." We've punched these cables down ourselves, so we can attest to this! Where the three offerings diverge is in the conductors at the heart of the cable: the yellow 'Chroma', the red 'Starlight', and the top-tier Silver Starlight are all 23AWG and all are terminated identically. The conductive wire is Oxygen Free Copper, Silver-Clad Oxygen Free Copper, and at the top, "Ohno Continuous Cast" 7N (99.99999% pure) Solid Silver. The top cable is described as, "fast and flawless 40 Gbit/sec @ 30 meters" which results in "maximum fidelity."
This wire has been nothing but aces! The Chroma is an incredibly solid performer, easily a step up from similarly priced offerings from other vendors. It is perfect for long-haul runs from a media server to an audio streamer. The Starlight takes things to the next sonic level and is ideal for "connections on a budget" that weigh in at 2-3 meters. For the shortest patches (0.5-3m) we heartily recommend the Silver Starlight: it provides for some of the best digital audio we've ever heard. (By no means are we trying to dissuade anyone from purchasing a 10m run of Silver Starlight — if you have the budget for it, we'll make it happen!) In short, you can't really go wrong no matter what your budget is. Every level is a revelation in why Ethernet matters.
When paired with a device like the universally acclaimed Sonore microRendu (see the Audio Bacon review) or their latest offering, the ultraRendu and powered by a quality supply (UpTone has excellent options), you'll swear digital audio doesn't get much better than this!
…but then you'll add something like UpTone Audio's ISO REGEN — a device which regenerates and removes noise from your USB signal with outstanding results — and think you've died and gone to audio heaven. (This sounds like hyperbole, but if you spend a few minutes reading the effusive praise on the Computer Audiophile forums for this little wonder-stack is just unprecedented). The "money" configuration looks something like this:
PC/MAC->Ethernet Cable->Sonore microRendu->UpTone ISO REGEN->DAC
We're living in exciting times. Digital audio has never sounded better, and it's crazy to think that it's getting better all the time!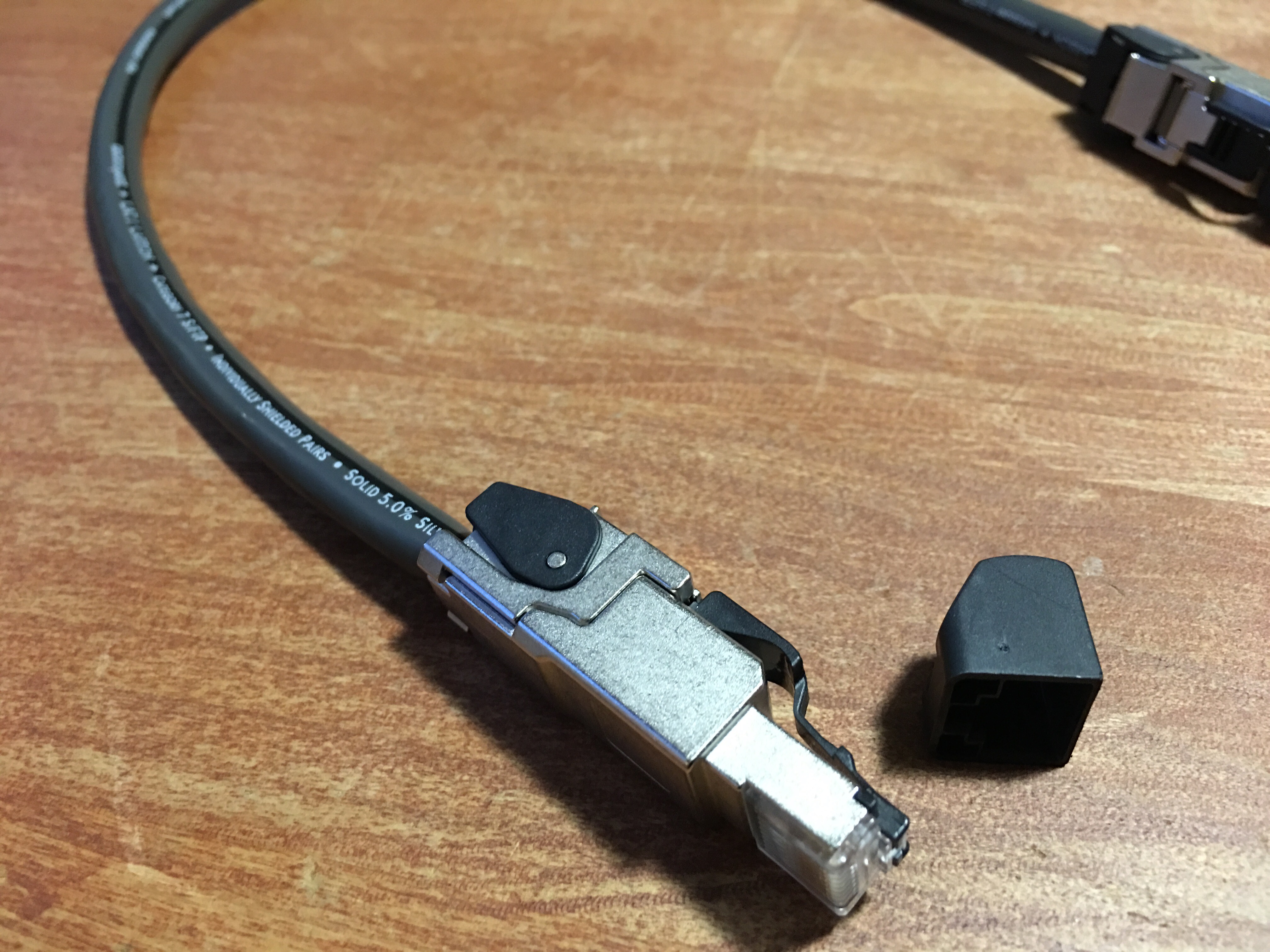 Coming from a software engineering background, I would usually be the first to tell you — all things being equal — that different (properly terminated, undamaged) Ethernet cables should not make a difference in audio quality.

It would seem that things are not equal, however. A regular customer of mine recently made an unconventional request: a single AudioQuest Carbon Ethernet cable with Telegärtner plugs, 1.5 feet long.
"Just one?" I wondered. They explained that they wanted to try upgrading the final leg of an "optical isolation" run — a method of decoupling the network storage system (NAS, standalone server, etc.) from the playback stage (in their case, a network streamer) while still using "wired" Ethernet. But instead of wires, a pair of optical fibers is used for the majority of the run… With a Tx-to-Fx (copper to fiber-optic) converter at either end and some very short lengths of Cat7(00) Ethernet to make the terminal connections on the wall side and on the player side.
This short run of Carbon would plug into the Streamer. Makes sense when you think about it: The Carbon has excellent shielding, materials, and construction, and after a fiber run done to eliminate noise (EMI/RFI/resonances), you really want to keep it out!
We listened for a couple of hours to the custom solution before making some targeted swaps. We tried reverting to a standard (bulk) Cat7 cable ~25′ and (when listening to the optical solution) also swapping the last leg out for the equally short run of bulk wire the system was using before Carbon.
The "base" optical solution gave a big improvement to the clarity and precision of the presentation beyond what Cat7 could offer alone. If you'll forgive a digital photography analogy, reverting to straight Cat7 from optical was a bit like someone playing with the "softness" filter in Photoshop. Everything blurred just a little.
Conversely, the AudioQuest Carbon Cat700 cable increase the sharpness even further. If you categorized the improvement that optical isolation offers on a 100 point scale, bulk wire solutions will get you about 85% of the way there. Replacing that last leg of Cat7 with Carbon seems to maximize the effect, revealing even more detail and increasing the sense of focus, articulation, and extension in the upper range.
I also felt the lower registers tightened up a little, adding a small measure of weight and impact. Piano sounded more natural in both the attack and the decay. Peter Gabriel's naturally sibilant vocal work sounded less like a hot mic and more like he was in the room.
I went into the room a skeptic, but I emerged a believer. The customer said it best: "even [the] last foot and a half of cable can matter."
Whether you need a single cable or an entire custom cabling solution, give us a call!
Hi-Fi Foundations is pleased to announce the addition of Wireworld to our stable of cutting-edge products! Wireworld's vision and values closely align with our own, so we couldn't be happier to have them aboard.

Here's a little bit of history about Wireworld and its founder, David Salz:
In the '80s David Salz realized the only way to figure out what was being lost by a cable was to remove it altogether. Listening tests with a cable vs. with components directly connected with no cable was the only way to actually hear what was being lost. This method then led to several patents as David continued to refine his cable designs to perform more and more closely to a direct connection.

The closer we get to bringing the intensity and beauty of live music to your listening room, the closer we have come to achieving our goals. –source
You'll be seeing more information about Wireworld products make its way onto our website in the future — but for now you can head over to WireworldCable.com and check them out for yourself. You can use the banners below to jump straight to a particular product type. If you see something that interests you, give us a call to set up a demo. You're going to love what you hear!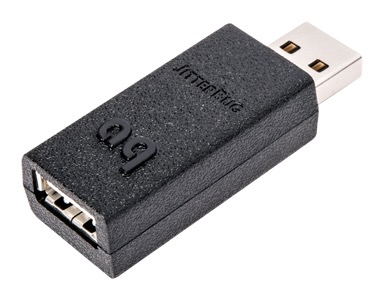 Audioquest's latest computer audio improvement has arrived!
The JitterBug is a noise filter for your USB's power (voltage) bus and signal lines, offering sonic benefits when used in series and/or parallel with your USB DAC and other devices! This little darling 'tweak' caught the eyes and ears of many members of the Audiophile press back in CES2015. We currently have a limited quantity of them IN STOCK along with DEMO units for you to listen to! For $49, this tweak is simply a must-have for your computer-based audio system. The sonic value has been deemed to be far more than that by more than one trusted reviewer:
Here's more detail about the JitterBug in Audioquest's own words (the back of the product box):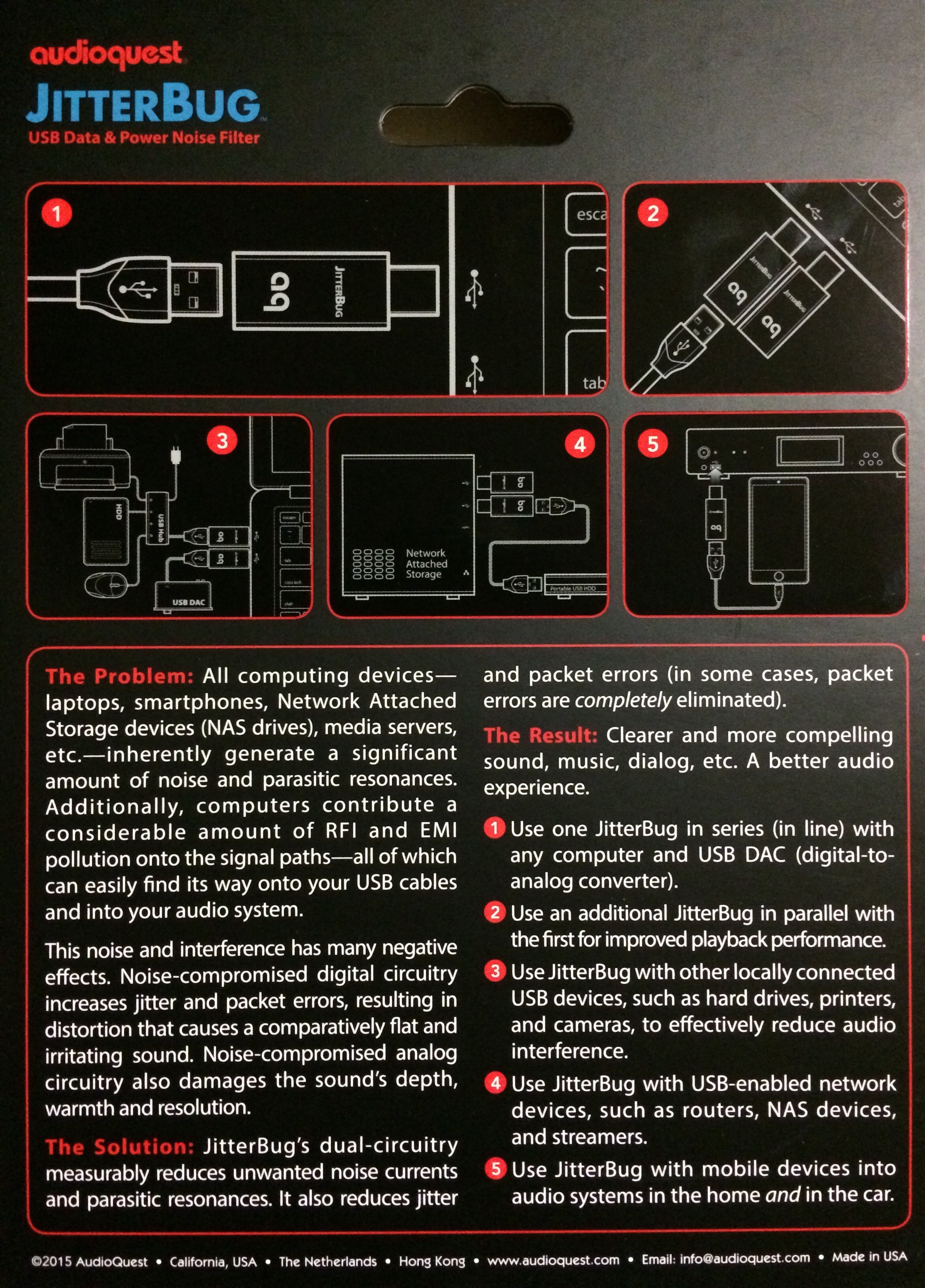 You've got to hear for yourself what the mighty little JitterBug can do for your music. Call us today!
Hi-Fi Foundations is movin' on up!
We are very pleased to announce that today we have secured our status as an Authorized Dealer for Nordost's awesome Norse 2 Series of products.
We have been a QRT, Sort, and Leif Series dealer for some time now and have enjoyed helping people bring a better foundation to their sound systems using those products. But for those who desire that next level of performance — deeper soundstages, blacker backgrounds, clearer instrument separation, enhanced timing, pacing, and tonality, a true sense of peering even deeper into the recording than ever before — the Norse 2 Series is here!
Larry Ho and Gavin Fish of Light Harmonic fame are hard at work on a few new projects under the "LH Labs" moniker: Geek Out and Geek Pulse.
We're excited about these projects and what they could mean for getting hifi sound on the go (in conjunction with a good pair of headphones, of course); so excited that we've backed them on Kickstarter and on Indiegogo, respectively.
The Kickstarter campaign for Geek Out is over, but you can still get in on the Geek Pulse on Indiegogo, an awesome little desktop DAC (Digital-to-Analog Converter) and headphone amplifier. It will even have a fully-balanced option for those of you who have invested in a pair of balanced wires for your headphones and/or a balanced signal path for your hifi.
We'll keep you posted as these projects mature.
Keep listening!
-jer