Today ushers in the 14th annual Rocky Mountain Audio Fest, "the largest consumer and home entertainment show in the United States." It also is home to CanJam @RMAF, a gathering of all things portable audio (headphones, in-ear monitors, digital audio players, portable amplifiers, etc.) hosted by Head-Fi.org.
We're looking forward to seeing old industry friends and making new ones. A contingency of pholks from the Phonogram forum are making their way out this year and the venue is bursting at the seams with awesome gear on display. It should be a great show!
Time and technology keep marching forward. Since the last time I wrote about Ethernet, we've seen strong offerings from a number of manufacturers, but the one that stands out the most to me is Wireworld. Most of the hifi vendors are focused on making Cat-6 sound better. David Salz set his sights on an entirely different target: Category 8. Now, if you're like me, you probably weren't even aware Category 8 Ethernet cabling had been defined, let alone spec'd out. You also might be wondering what happened to Category 7.
According to Wireworld, every one of their Cat8 cable employs the same "Patent-pending Tite-Shield design technology." We've punched these cables down ourselves, so we can attest to this! Where the three offerings diverge is in the conductors at the heart of the cable: the yellow 'Chroma', the red 'Starlight', and the top-tier Silver Starlight are all 23AWG and all are terminated identically. The conductive wire is Oxygen Free Copper, Silver-Clad Oxygen Free Copper, and at the top, "Ohno Continuous Cast" 7N (99.99999% pure) Solid Silver. The top cable is described as, "fast and flawless 40 Gbit/sec @ 30 meters" which results in "maximum fidelity."
This wire has been nothing but aces! The Chroma is an incredibly solid performer, easily a step up from similarly priced offerings from other vendors. It is perfect for long-haul runs from a media server to an audio streamer. The Starlight takes things to the next sonic level and is ideal for "connections on a budget" that weigh in at 2-3 meters. For the shortest patches (0.5-3m) we heartily recommend the Silver Starlight: it provides for some of the best digital audio we've ever heard. (By no means are we trying to dissuade anyone from purchasing a 10m run of Silver Starlight — if you have the budget for it, we'll make it happen!) In short, you can't really go wrong no matter what your budget is. Every level is a revelation in why Ethernet matters.
When paired with a device like the universally acclaimed Sonore microRendu (see the Audio Bacon review) or their latest offering, the ultraRendu and powered by a quality supply (UpTone has excellent options), you'll swear digital audio doesn't get much better than this!
…but then you'll add something like UpTone Audio's ISO REGEN — a device which regenerates and removes noise from your USB signal with outstanding results — and think you've died and gone to audio heaven. (This sounds like hyperbole, but if you spend a few minutes reading the effusive praise on the Computer Audiophile forums for this little wonder-stack is just unprecedented). The "money" configuration looks something like this:
PC/MAC->Ethernet Cable->Sonore microRendu->UpTone ISO REGEN->DAC
We're living in exciting times. Digital audio has never sounded better, and it's crazy to think that it's getting better all the time!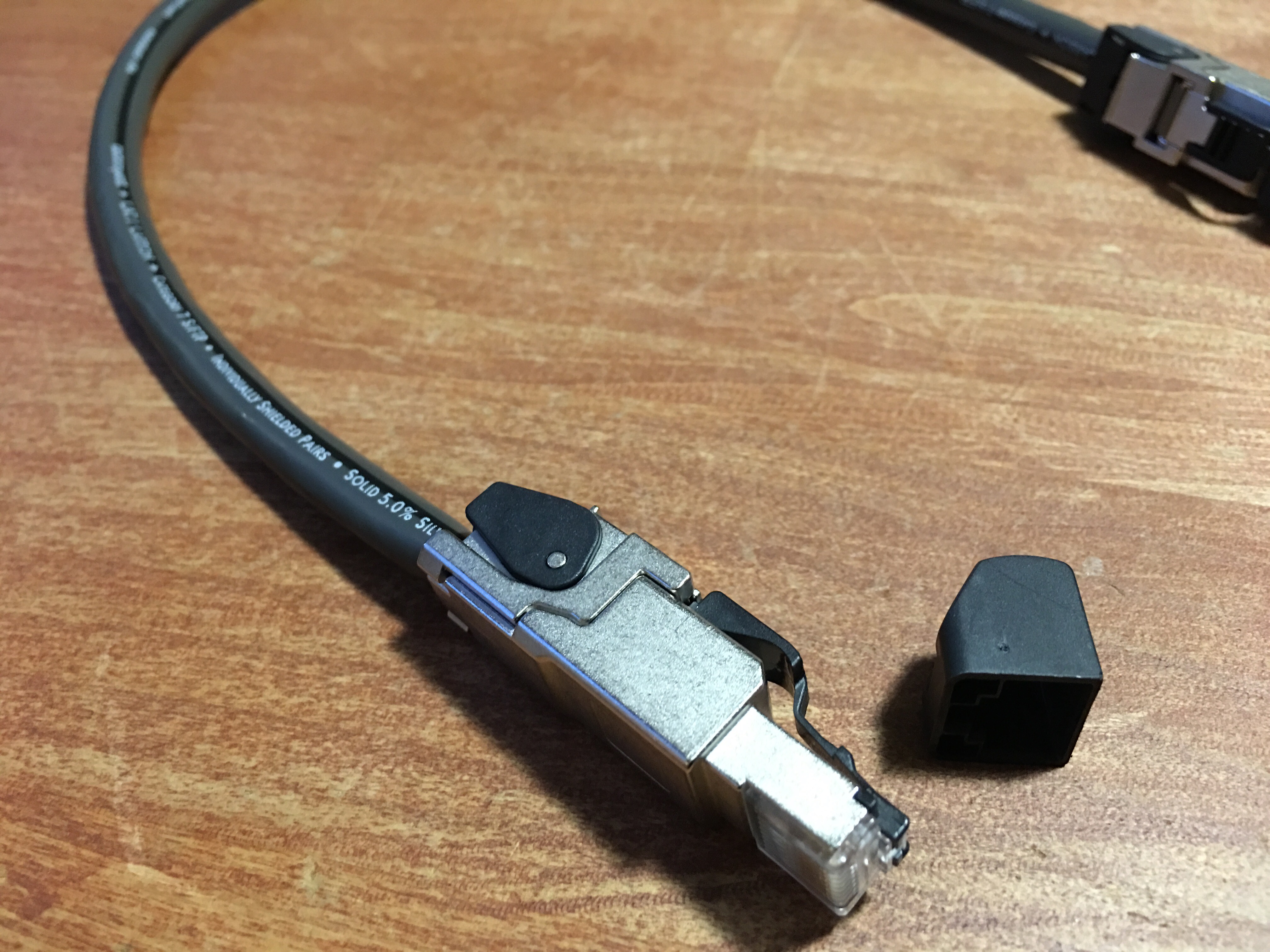 Coming from a software engineering background, I would usually be the first to tell you — all things being equal — that different (properly terminated, undamaged) Ethernet cables should not make a difference in audio quality.

It would seem that things are not equal, however. A regular customer of mine recently made an unconventional request: a single AudioQuest Carbon Ethernet cable with Telegärtner plugs, 1.5 feet long.
"Just one?" I wondered. They explained that they wanted to try upgrading the final leg of an "optical isolation" run — a method of decoupling the network storage system (NAS, standalone server, etc.) from the playback stage (in their case, a network streamer) while still using "wired" Ethernet. But instead of wires, a pair of optical fibers is used for the majority of the run… With a Tx-to-Fx (copper to fiber-optic) converter at either end and some very short lengths of Cat7(00) Ethernet to make the terminal connections on the wall side and on the player side.
This short run of Carbon would plug into the Streamer. Makes sense when you think about it: The Carbon has excellent shielding, materials, and construction, and after a fiber run done to eliminate noise (EMI/RFI/resonances), you really want to keep it out!
We listened for a couple of hours to the custom solution before making some targeted swaps. We tried reverting to a standard (bulk) Cat7 cable ~25′ and (when listening to the optical solution) also swapping the last leg out for the equally short run of bulk wire the system was using before Carbon.
The "base" optical solution gave a big improvement to the clarity and precision of the presentation beyond what Cat7 could offer alone. If you'll forgive a digital photography analogy, reverting to straight Cat7 from optical was a bit like someone playing with the "softness" filter in Photoshop. Everything blurred just a little.
Conversely, the AudioQuest Carbon Cat700 cable increase the sharpness even further. If you categorized the improvement that optical isolation offers on a 100 point scale, bulk wire solutions will get you about 85% of the way there. Replacing that last leg of Cat7 with Carbon seems to maximize the effect, revealing even more detail and increasing the sense of focus, articulation, and extension in the upper range.
I also felt the lower registers tightened up a little, adding a small measure of weight and impact. Piano sounded more natural in both the attack and the decay. Peter Gabriel's naturally sibilant vocal work sounded less like a hot mic and more like he was in the room.
I went into the room a skeptic, but I emerged a believer. The customer said it best: "even [the] last foot and a half of cable can matter."
Whether you need a single cable or an entire custom cabling solution, give us a call!
Hi-Fi Foundations is pleased to announce the addition of Wireworld to our stable of cutting-edge products! Wireworld's vision and values closely align with our own, so we couldn't be happier to have them aboard.

Here's a little bit of history about Wireworld and its founder, David Salz:
In the '80s David Salz realized the only way to figure out what was being lost by a cable was to remove it altogether. Listening tests with a cable vs. with components directly connected with no cable was the only way to actually hear what was being lost. This method then led to several patents as David continued to refine his cable designs to perform more and more closely to a direct connection.

The closer we get to bringing the intensity and beauty of live music to your listening room, the closer we have come to achieving our goals. –source
You'll be seeing more information about Wireworld products make its way onto our website in the future — but for now you can head over to WireworldCable.com and check them out for yourself. You can use the banners below to jump straight to a particular product type. If you see something that interests you, give us a call to set up a demo. You're going to love what you hear!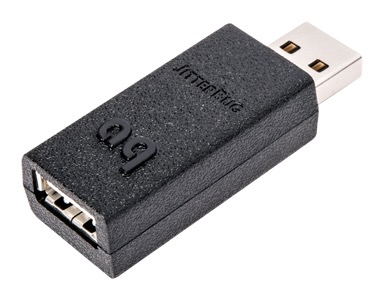 Audioquest's latest computer audio improvement has arrived!
The JitterBug is a noise filter for your USB's power (voltage) bus and signal lines, offering sonic benefits when used in series and/or parallel with your USB DAC and other devices! This little darling 'tweak' caught the eyes and ears of many members of the Audiophile press back in CES2015. We currently have a limited quantity of them IN STOCK along with DEMO units for you to listen to! For $49, this tweak is simply a must-have for your computer-based audio system. The sonic value has been deemed to be far more than that by more than one trusted reviewer:
Here's more detail about the JitterBug in Audioquest's own words (the back of the product box):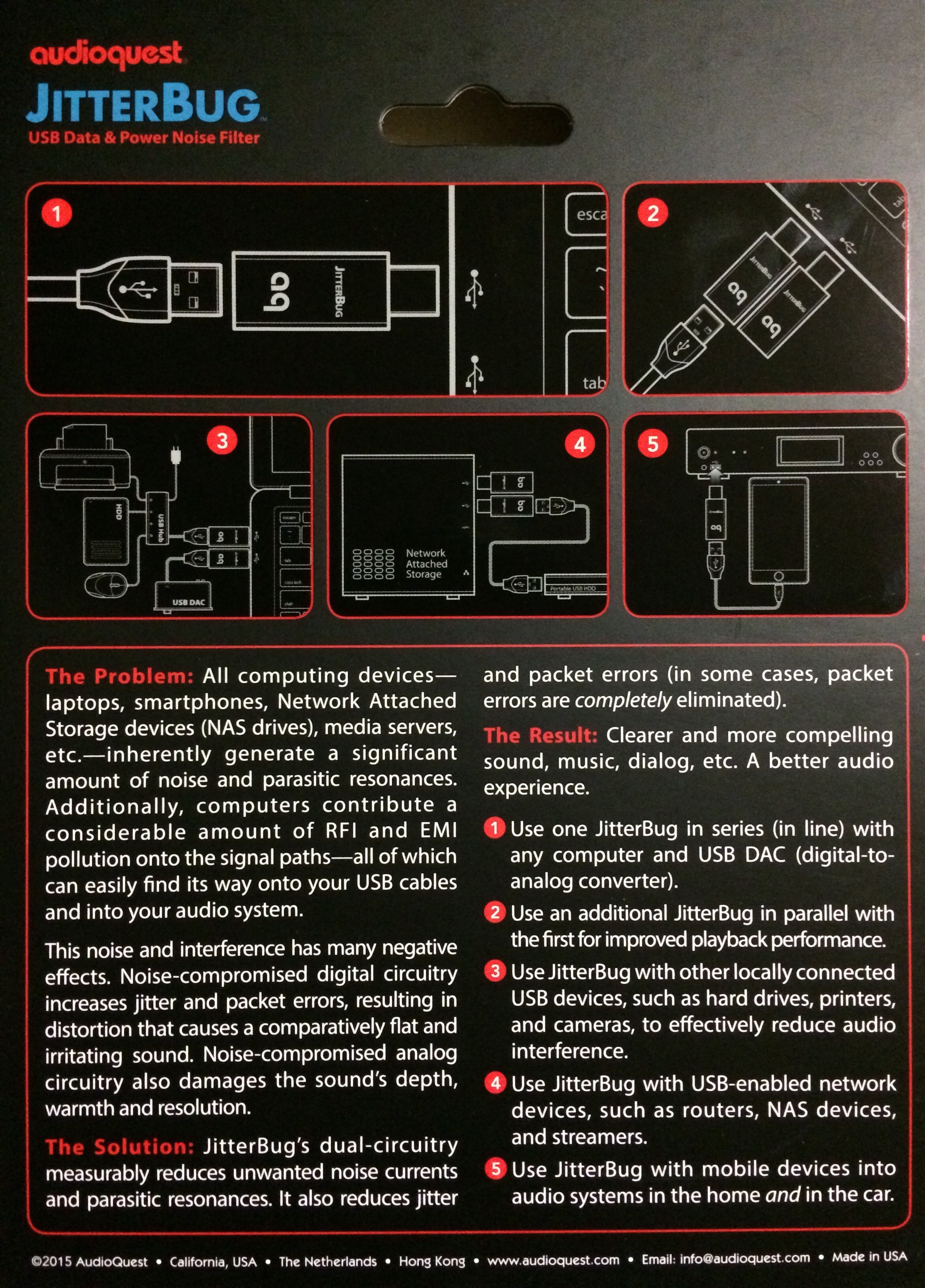 You've got to hear for yourself what the mighty little JitterBug can do for your music. Call us today!
Hi-Fi Foundations is movin' on up!
We are very pleased to announce that today we have secured our status as an Authorized Dealer for Nordost's awesome Norse 2 Series of products.
We have been a QRT, Sort, and Leif Series dealer for some time now and have enjoyed helping people bring a better foundation to their sound systems using those products. But for those who desire that next level of performance — deeper soundstages, blacker backgrounds, clearer instrument separation, enhanced timing, pacing, and tonality, a true sense of peering even deeper into the recording than ever before — the Norse 2 Series is here!
We believe that a custom-tailored approach to system tuning yields the best results over time. Unlike those big box outfits, we'll never try to push our "sales stock" on you just because it's crowding our shelves. Because most of our products are customizable, and because no two systems are the same, we often don't order your products from our suppliers until you decide to buy them! Sometimes, this can lead to unwanted delays in fulfilling your order.

In this age of same-day delivery services and expedited everything, we appreciate the power and allure of instant gratification. This is why we are pleased to introduce a new way of delivering products that gives you instant gratification without sacrificing our commitment to putting the right product in your hands.

What is the Loan To Own program?
Loan To Own gives you the ability to borrow the very same demo product you previewed until your custom order is filled. This means there will be no interruption in the enjoyment of your new product from the time you pay until the order arrives!

How does it work?
Once we determine what the right product is for your needs, we'll take your payment up front and satisfy the parts of the order that we can from our in-stock merchandise. If we do not have a perfect match in-stock, we will provide you with demo product (or products) to "fill in" for the new products you have ordered. Once your order arrives, we will check it for quality and correctness and then arrange a time to deliver it to you.

Are there Rules or Restrictions I should be aware of?
Of course, but they're pretty simple:
Loan To Own is a program for Customers who have established a good standing with us. (This just means you've bought from us before and the transaction went smoothly). New Customers' eligibility for Loan To Own will be determined on a case-by-case basis.
Upon receipt of their ordered goods, Customer agrees to surrender to Hi-Fi Foundations all Demo Product or Products currently on loan to them as part of the Loan To Own transaction, regardless of condition or ability to function.
If the Demo Product or Products are lost or damaged beyond normal wear and tear (such determination to be made by Hi-Fi Foundations), Customer agrees that Hi-Fi Foundations may, at their sole discretion, invoice Customer for the full, non-refundable replacement cost of the Demo Product or Products, including all transaction, shipping, and drayage fees.
Welcome to the first edition of News You Can Use!
Today's newsletter is themed around SALES. It's Labor Day in the USA, so it seems like everybody is having a sale. Today, we'll highlight some of the best music-related sales and tips we've found around the net. First up, we'll highlight some foundational improvements — after all, foundations are "our thing" — that you might be able to make to your system that won't break the bank.
Foundational Tips
Roy Gregory's

latest tip

 about "IKEA's (inadvertent) entry into the [hi-fi] market" is well worth a read. This might also be the highest cost:benefit upgrade your system has ever experienced.
Got a subwoofer with speaker level input? Using lamp cord to feed it? Well, it turns out that low-level signals really benefit from higher-quality cable! Case in point — we recently were asked to evaluate a set of speakers by a local manufacturer. Nice hardwoods, good build quality. The 2.1 small-room system is based on a diminutive 3″ full-range driver. The modest 8″ subwoofer has an integrated plate amp that features spring clip terminals for its speaker-level input. The terminals are so small, you can't fit a standard 4mm banana inside them, but a set of

these adapters

does the job nicely (yes, we know, Radio Shack isn't known for their audiophile selection, but they work "in a pinch").

When we replaced the 24awg bulk wire with Nordost White Lightning it really made our ears happy. Nichole Nordeman's "To Know You" (from Live at the Door) really took on new life. Her voice (which is buttery, airy and oh-so rich) became more three-dimensional and life-like. The presentation of the concert hall captured in the live recording improved dramatically. Instruments seemed more rooted, authoritative and realistic… all by changing out a subwoofer cable!
Hi-res Market
NativeDSD.com

periodically offers free DSD and DXD downloads, along with a

free compilation

 that is useful for comparing different sample rates.

Fidelio (aka 2xHD)

has recently released several new and re-mastered albums in DSD. While HDTracks usually offers some modest PCM versions, DSD is found at

ProStudioMasters.com

. We're enjoying these:
For the budget-conscious and the quality-obsessed alike, we have observed that ProStudioMasters.com is often cheaper than HDTracks.com at the same resolutions and often offers higher resolutions (such as the DSD versions of several of Holly Cole's albums). For example, compare Doug MacLeod's "There's a Time" in 24/176:
Of course, both sites are currently having a Labor Day sale:

HDtracks has a 10% off code: HDAUG25 that expires TODAY.
ProStudioMasters has a 10% off code that expires September 3rd.
Vinyl Market
Elusive Disc

has lots of great Vinyl on sale now. They're also having a site-wide

10% off sale

+ Free Shipping on orders over $99! (This discount stacks with current sale prices!)
Beatles' fans: 

The Beatles are coming (back to Mono)

! New, pure analog transfers that Michael Fremer regards quite highly. Bound to sell out quickly.
Dire Straits fans: Universal's latest

Dire Straits collection

 is very good. They even restored the original album art. We would have liked to see a gatefold cover, but at the end of the day it's the music that matters, and they've done a fabulous job.
Lorde fans: her

Pure Heroine

 album sounds really good on vinyl. It was either derived from a different master than the digital version, or at least has

far better dynamic range

, and it really shows when listening to the two back to back.
CD Market
FIM's

DECCA: Supreme Stereophonic Legacy

 by Winston Ma is out. Not only is it a beautiful set and valuable for history of music buffs, the CDs are among the best sounding CDs we've ever heard.
In Conclusion
Thanks for joining us for Volume 0 of News You Can Use! See you next time, and Good listening!
Jeremy packed his bags and flew to Las Vegas this year for CES 2014. The red-eye dropped him off a little late so he only got 3 hours of sleep before his first event (a 7:30am press event), but what a great first day he had!
He's been tweeting significant moments @hififoundations. Feel free to follow along and re-tweet if you see anything cool.
We'd also like to give a shout out to Light Harmonic. Their Indiegogo Campaign for the Geek Pulse went phenomenally well — over $1.1 million dollars raised! Wow! Congratulations to Larry, Gavin, Steve, Kim, and last but not least the indomitable Geek Force (www.lhlabs.com). Well done!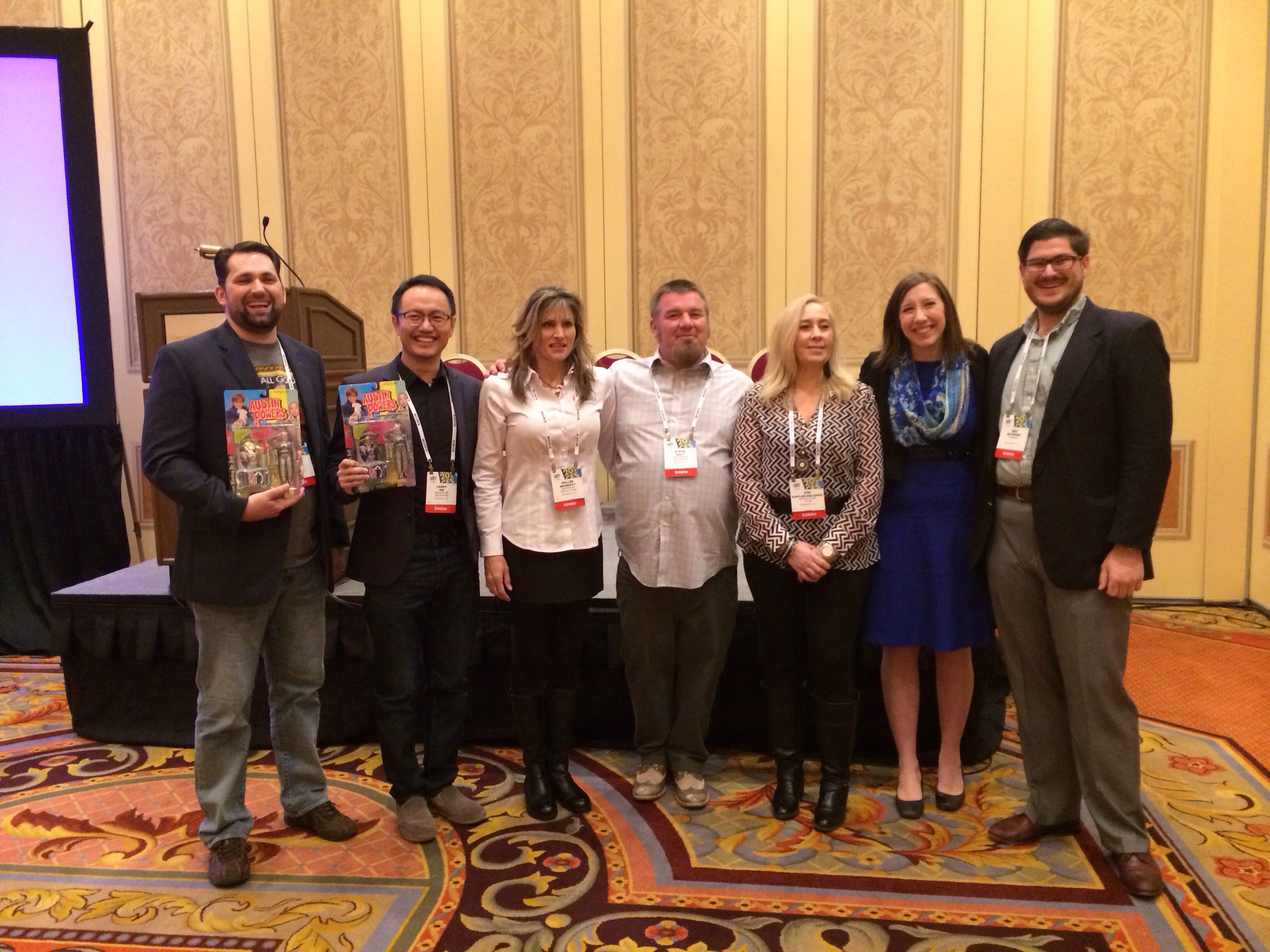 (Light Harmonic & Friends)