Hi-Fi Foundations is movin' on up!
We are very pleased to announce that today we have secured our status as an Authorized Dealer for Nordost's awesome Norse 2 Series of products.
We have been a QRT, Sort, and Leif Series dealer for some time now and have enjoyed helping people bring a better foundation to their sound systems using those products. But for those who desire that next level of performance — deeper soundstages, blacker backgrounds, clearer instrument separation, enhanced timing, pacing, and tonality, a true sense of peering even deeper into the recording than ever before — the Norse 2 Series is here!
We believe that a custom-tailored approach to system tuning yields the best results over time. Unlike those big box outfits, we'll never try to push our "sales stock" on you just because it's crowding our shelves. Because most of our products are customizable, and because no two systems are the same, we often don't order your products from our suppliers until you decide to buy them! Sometimes, this can lead to unwanted delays in fulfilling your order.

In this age of same-day delivery services and expedited everything, we appreciate the power and allure of instant gratification. This is why we are pleased to introduce a new way of delivering products that gives you instant gratification without sacrificing our commitment to putting the right product in your hands.

What is the Loan To Own program?
Loan To Own gives you the ability to borrow the very same demo product you previewed until your custom order is filled. This means there will be no interruption in the enjoyment of your new product from the time you pay until the order arrives!

How does it work?
Once we determine what the right product is for your needs, we'll take your payment up front and satisfy the parts of the order that we can from our in-stock merchandise. If we do not have a perfect match in-stock, we will provide you with demo product (or products) to "fill in" for the new products you have ordered. Once your order arrives, we will check it for quality and correctness and then arrange a time to deliver it to you.

Are there Rules or Restrictions I should be aware of?
Of course, but they're pretty simple:
Loan To Own is a program for Customers who have established a good standing with us. (This just means you've bought from us before and the transaction went smoothly). New Customers' eligibility for Loan To Own will be determined on a case-by-case basis.
Upon receipt of their ordered goods, Customer agrees to surrender to Hi-Fi Foundations all Demo Product or Products currently on loan to them as part of the Loan To Own transaction, regardless of condition or ability to function.
If the Demo Product or Products are lost or damaged beyond normal wear and tear (such determination to be made by Hi-Fi Foundations), Customer agrees that Hi-Fi Foundations may, at their sole discretion, invoice Customer for the full, non-refundable replacement cost of the Demo Product or Products, including all transaction, shipping, and drayage fees.
Welcome to the first edition of News You Can Use!
Today's newsletter is themed around SALES. It's Labor Day in the USA, so it seems like everybody is having a sale. Today, we'll highlight some of the best music-related sales and tips we've found around the net. First up, we'll highlight some foundational improvements — after all, foundations are "our thing" — that you might be able to make to your system that won't break the bank.
Foundational Tips
Roy Gregory's

latest tip

 about "IKEA's (inadvertent) entry into the [hi-fi] market" is well worth a read. This might also be the highest cost:benefit upgrade your system has ever experienced.
Got a subwoofer with speaker level input? Using lamp cord to feed it? Well, it turns out that low-level signals really benefit from higher-quality cable! Case in point — we recently were asked to evaluate a set of speakers by a local manufacturer. Nice hardwoods, good build quality. The 2.1 small-room system is based on a diminutive 3″ full-range driver. The modest 8″ subwoofer has an integrated plate amp that features spring clip terminals for its speaker-level input. The terminals are so small, you can't fit a standard 4mm banana inside them, but a set of

these adapters

does the job nicely (yes, we know, Radio Shack isn't known for their audiophile selection, but they work "in a pinch").

When we replaced the 24awg bulk wire with Nordost White Lightning it really made our ears happy. Nichole Nordeman's "To Know You" (from Live at the Door) really took on new life. Her voice (which is buttery, airy and oh-so rich) became more three-dimensional and life-like. The presentation of the concert hall captured in the live recording improved dramatically. Instruments seemed more rooted, authoritative and realistic… all by changing out a subwoofer cable!
Hi-res Market
NativeDSD.com

periodically offers free DSD and DXD downloads, along with a

free compilation

 that is useful for comparing different sample rates.

Fidelio (aka 2xHD)

has recently released several new and re-mastered albums in DSD. While HDTracks usually offers some modest PCM versions, DSD is found at

ProStudioMasters.com

. We're enjoying these:
For the budget-conscious and the quality-obsessed alike, we have observed that ProStudioMasters.com is often cheaper than HDTracks.com at the same resolutions and often offers higher resolutions (such as the DSD versions of several of Holly Cole's albums). For example, compare Doug MacLeod's "There's a Time" in 24/176:
Of course, both sites are currently having a Labor Day sale:

HDtracks has a 10% off code: HDAUG25 that expires TODAY.
ProStudioMasters has a 10% off code that expires September 3rd.
Vinyl Market
Elusive Disc

has lots of great Vinyl on sale now. They're also having a site-wide

10% off sale

+ Free Shipping on orders over $99! (This discount stacks with current sale prices!)
Beatles' fans: 

The Beatles are coming (back to Mono)

! New, pure analog transfers that Michael Fremer regards quite highly. Bound to sell out quickly.
Dire Straits fans: Universal's latest

Dire Straits collection

 is very good. They even restored the original album art. We would have liked to see a gatefold cover, but at the end of the day it's the music that matters, and they've done a fabulous job.
Lorde fans: her

Pure Heroine

 album sounds really good on vinyl. It was either derived from a different master than the digital version, or at least has

far better dynamic range

, and it really shows when listening to the two back to back.
CD Market
FIM's

DECCA: Supreme Stereophonic Legacy

 by Winston Ma is out. Not only is it a beautiful set and valuable for history of music buffs, the CDs are among the best sounding CDs we've ever heard.
In Conclusion
Thanks for joining us for Volume 0 of News You Can Use! See you next time, and Good listening!
Jeremy packed his bags and flew to Las Vegas this year for CES 2014. The red-eye dropped him off a little late so he only got 3 hours of sleep before his first event (a 7:30am press event), but what a great first day he had!
He's been tweeting significant moments @hififoundations. Feel free to follow along and re-tweet if you see anything cool.
We'd also like to give a shout out to Light Harmonic. Their Indiegogo Campaign for the Geek Pulse went phenomenally well — over $1.1 million dollars raised! Wow! Congratulations to Larry, Gavin, Steve, Kim, and last but not least the indomitable Geek Force (www.lhlabs.com). Well done!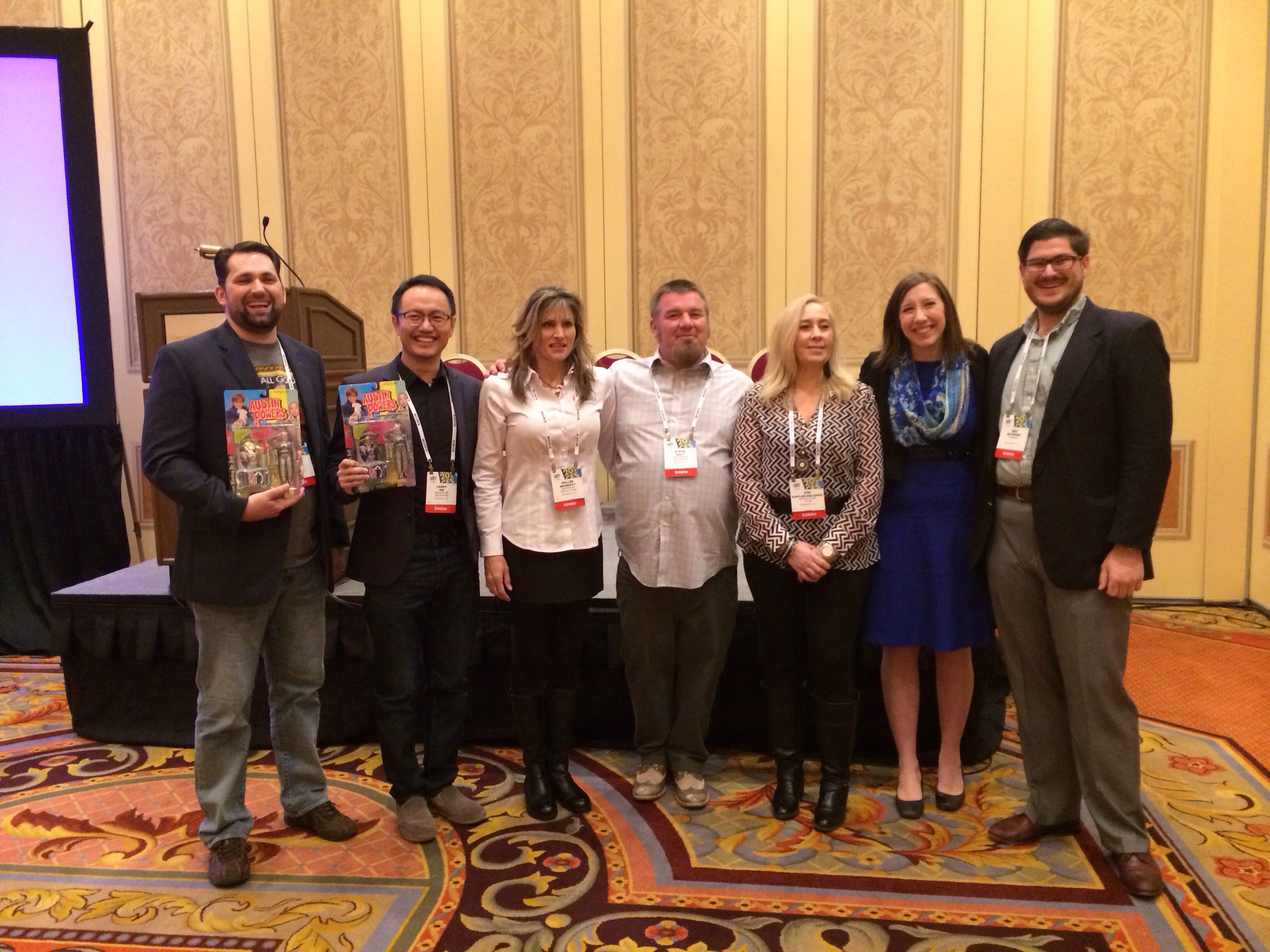 (Light Harmonic & Friends)